NOTE: At this time, Switchmode Rectifiers cannot be purchased via this web site. Please call our sales department (772.794.9448) to discuss your application so that we may provide the proper rectifier to meet yor specific needs.
Switchmode Cathodic Protection Rectifiers
Switchmode rectifiers are known for their quality, efficiency, service life and workmanship. Switchmode rectifiers have been used for many years and this demonstrates the quality service they provide.Many extra features can be installed in order to fit the specific Cathodic Protection needs. The switchmode rectifier is a newer technology and is significantly more advanced than transformer rectifiers, utilizing high frequency switching devices, resulting in far greater feedback responsiveness, efficiency and service life.
Switchmode Cathodic Protection rectifiers can typically be used with corrosion protection on pipelines, tank farms and other vulnerable metals that are at risk of corrosion, where impressed DC currents are required.
Benefits and Features of Cathtect's Switchmode Rectifiers
Benefits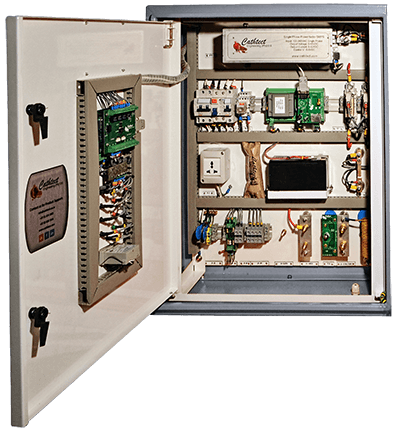 High efficiency of up to 95%
Significantly lower cost than a Transformer rectifier
Half the size of a Transformer rectifier
Single phase and more efficient rectification across the output range
Light weight design
30% less operating temperature than a Transformer rectifier
Output DC ripple is less than 200mV
Integrated remote monitoring
Features
Automatic PID output feedback control (Constant voltage , constant current, constant reference potential and iterative instant off)
Heavy duty power factor correction rectification
Single phase wide range voltage input 90-260 VAC
Input frequency range 47-63 Hz
High frequency switching for maximum efficiency of up to 95%
Digital metering with backlight for voltage, current and reference potential
Base Switchmode Ordering Codes
Please contact the M. C. Miller sales team for current pricing.
| | |
| --- | --- |
| Part Number | Description |
| | RECTIFIERS |
| CATH-SMU-101 | 150W, 12V, 12.5A |
| CATH-SMU-102 | 150W, 24V, 6.25A |
| CATH-SMU-103 | 150W, 48V, 3.125A |
| CATH-SMU-201 | 300W, 12V, 25A |
| CATH-SMU-202 | 300W, 24V, 12.5A |
| CATH-SMU-203 | 300W, 48V, 6.25A |
| CATH-SMU-301 | 1500W, 12V, 125A |
| CATH-SMU-302 | 1500W, 24V, 63A |
| CATH-SMU-303 | 1500W, 48V, 32A |
| | SMU REMOTE MONITORING UNITS |
| CATH-RMU | REMOTE MONITORING UNIT, CATHTECT RECTIFIER |
| CATH-RMU-OUS | REMOTE MONITORING UNIT, 3RD PARTY RECTIFIER |
| CATH-RMU-BSW | REMOTE MONITORING BASE STATION SOFTWARE |
| | SMU RECTIFIER ACCESSORIES |
| CATH-ACC-ENCL | ENCLOSURE |
| CATH-ACC-GD | GLASS DOOR |
| CATH-ACC-LD | LOUVERED DOOR |
| CATH-ACC-CAN | CANOPY |
| CATH-ACC-PC | POLE CLAMP |
| CATH-ACC-WML | WALL MOUNTING LUGS |
| CATH-ACC-50PL | 50MM PLINTH |
Various options, including GPS, Remote Monitoring, color, etc., are available upon request. A more detailed description can be found here.