ProActive PRO CP Data Management Software

ProActivePRO is an update to our innovative database system for managing, summarizing, and reporting all collected information pertaining to pipeline integrity. The improved system is still ProActive in the sense that the summary screens and reports focus on maximizing pipeline integrity by eliminating problem areas and identifying and reversing deleterious data trends, with an improved intuitive interface.

The program facilitates data entry of cathodic protection data, via direct download from data-logger equipment and manual data entry. A complete inventory of all devices arrayed along a pipeline is maintained, including important specifications and contact information, as well as device-specific ancillary information, a history of readings, and an audit trail of all changes. Certain pipeline features such as anomalies, spans, coatings, and sleeves are also tracked within the database. ProActivePRO improves upon our legacy software to add coding that will allow for faster improvements and optimized interaction with the most up-to-date equipment.

M. C. Miller data-loggers are fully supported by ProActivePRO and all components work together to provide an integrated hardware/software solution to your CP pipeline integrity data management needs.

The figure below summarizes the major functional aspects of both our data-loggers and the ProActivePRO system and illustrates the interdependent nature of the relationship between the two products.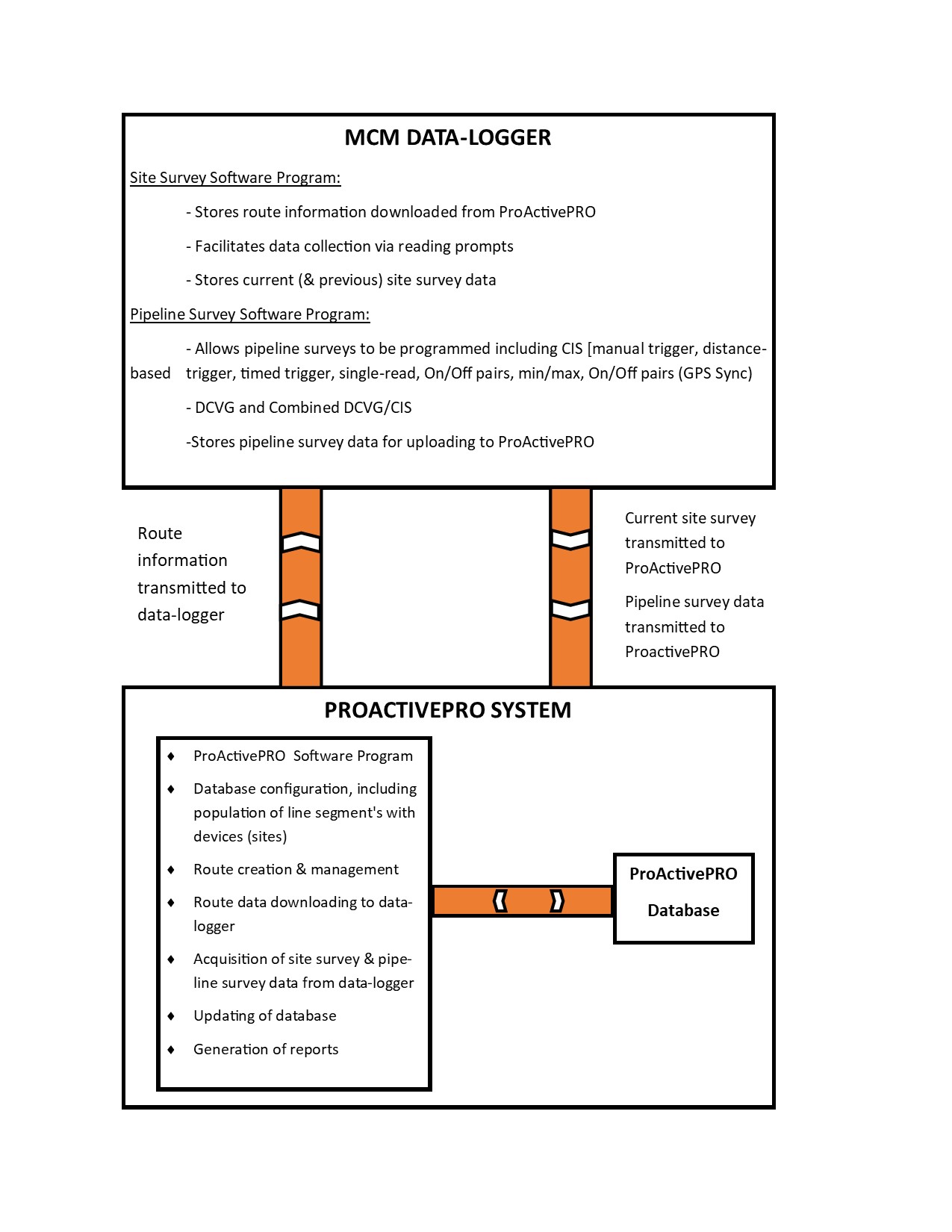 The ProActive database is an integral part of the ProActive system. This database is where all historical CP data are stored and where new data (current data) are posted and integrated with previously recorded data.
Please call 772-794-9448 for options and pricing.
ProActive Features
ProActivePRO is easy to use and has extensive functionality, multi-user support and is backwards compatible with the ProActive legacy database.
Configure a database with ease to represent your pipeline system or to represent your customers and their pipelines.
Easily populate your line segments with sites and nodes (rectifiers, bonds, test points etc.) to manage all pertinent information for each site in ProActivePRO.
Build routes with ease and download route data to M. C. Miller data-loggers for automatic collection of site survey data or generate Excel spreadsheets for manual data entry of site data.
Conveniently download site data from M. C. Miller data-loggers (or import spreadsheet data) and automatically update your ProActivePRO database.
Effortlessly download CIS and DCVG survey data from M. C. Miller data-loggers and conveniently associate these data with appropriate line segments in your ProActivePRO database.
Easily edit pipeline survey data (as required) via a convenient graphical presentation of the data.
Confidently import other pipeline survey data, such as PCM, GPS right-of-way and SmartPig data, and associate these data with appropriate line segments in your ProActivePRO database.
Easily design graphical and textual report formats for repeated use. For instance: Present survey data in association with line segments overlaid on topographical/photographical maps when GPS right-of-way data are available.
GIS system integration. (ESRI-ArcGIS etc.)
Detailed descriptions of each of the above functions can be found in the
ProActivePRO Training Manual:Single-User Version and the ProActivePRO Training Manual:Client-Server Version.