A Tradition of Excellence
The M. C. Miller Company has been serving the needs of the corrosion control industry for over years and we continue to expand our impact by developing new, needs-based products and services, based on our commitment to in-house research and development.
The Company has manufactured all of its products in the U.S.A. since its founding and we continue to do so at our current production facility in Sebastian, Florida. Our production facility houses a machine shop and printed circuit board assembly & testing equipment as well as our product assembly, shipping, receiving, IT, sales and administration operations. Since our personnel and all of our operations are contained under one roof, our manufacturing & support functions are fully integrated.
Our goal is to provide our customers with "Made in the U.S.A" products of the highest quality at competitive prices and all of our personnel strive to meet this goal on a daily basis.
Mark Miller's Legacy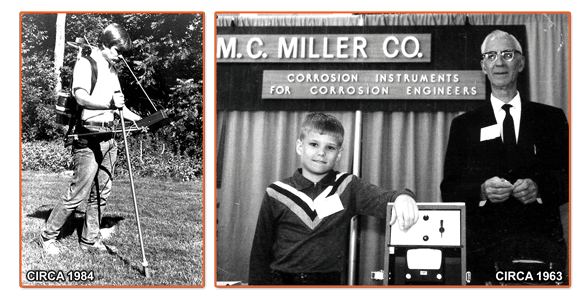 Melvin C. Miller II, better known to his friends and colleagues in the corrosion industry as, Mark Miller, served the Company as its president from 1986 until his untimely passing in June of 2009.
Mark was the beloved grandson of the late Melvin C. Miller, a pioneer in the corrosion control industry and founder of the M. C. Miller Company (please see "A Tribute to our Founder" below).
Mark received a B.S. degree in materials science and engineering from the University of Florida (Gainesville) in 1979, with a specialty in corrosion engineering, and in 1981 earned a master's degree in accounting and business management from the University of South Florida (Tampa).
Mark began his career at the M. C. Miller Company under his grandfather's tutelage as a 15 year old boy doing various jobs, such as sweeping out the machine shop, packing products for shipment and some assembly work. He continued to work at the company during his student days, receiving exposure to all aspects of the business. After completing his formal education, Mark worked full-time at M. C. Miller in the areas of electrical engineering design and business administration. In 1986, Mark succeeded his grandfather as president of the M. C. Miller Company and successfully managed the company until his untimely passing. Mark grew the company through his commitment to in-house research and development. New product development will be his enduring legacy.
Mark joined both NACE and ASTM in 1978 and was extremely active in both organizations through participation on a variety of technical committees. He exhibited at NACE's annual corrosion conference for 31 straight years on behalf of the M. C. Miller Company.
A Tribute to Our Founder, the Late Melvin C. Miller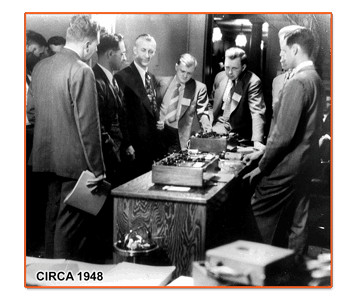 Melvin C. Miller began his career in 1914, with the Swett Electric Light Company in Medina, New York. In 1921, he joined Northern States Power Company and six years later moved to Texas Power and Light Company, where he became chief distribution engineer.
In 1936, he joined the Consulting Engineering Division of Ebasco Services Inc., in New York City, as an electrical engineer, and remained associated with Ebasco for some 25 years both as an employee and later as a consultant while developing his own business.
As an Ebasco engineer, Melvin C. Miller first became interested in the field of Cathodic Protection while on assignment with a gas distribution company around 1940. At that time, the application of Cathodic Protection for corrosion control of underground pipelines was in its infancy and Melvin became one of the true pioneers in this field. Based on his early exposure to the new field, he established a corrosion engineering group at Ebasco and, over the years, through his pioneering efforts, was instrumental in the development of corrosion engineering activities in the United States, particularly in the field of Cathodic Protection.
As a practicing field engineer working in the Cathodic Protection field, Melvin C. Miller became aware of an acute need for precision field-use instruments to detect and record the extent of external corrosion on underground pipelines and, in the early fifties, he began working, in his garage, on the design and construction of instruments that would be practical to take to the field and that would yield accurate current and voltage data. It didn't take long for his meters to attract the attention of his colleagues and soon his meters were in high demand, so much so, that M. C. Miller established his own manufacturing company to satisfy the demand for his instruments. The company founded by Melvin C. Miller was headed up by his grandson, Melvin C. Miller II (Mark Miller), for 23 years until Mark's passing in June, 2009. The legacy established by Melvin and his grandson is continued today by the employees of the M. C. Miller Company and today's generation of the company's meters and related test equipment is in service all around the world.
Throughout his career, going back to the early forties all the way up to his passing in 1979, Melvin C. Miller was an active member of the National Association of Corrosion Engineers and he was highly regarded by the Association for his pioneering contribution to the development of field-use test equipment as well as for his devotion to educating practicing corrosion engineers. In 1978, he was presented, by NACE, with the prestigious Frank Newman Speller Award, for "Outstanding Contributions to Corrosion Engineering".
Additionally, in the education vane, in 1970, M. C. Miller received the Colonel George C. Cox Outstanding Award from the University of West Virginia for his longstanding contributions (going back to its foundations in the mid-fifties) of the Appalachian Underground Corrosion Short Course. As a lecturer for this short course and as a seminar presenter all over both North and South America, Melvin C. Miller, over his extensive career, passed on his knowledge and experience to literally thousands of corrosion engineers.