Miller 400D
All new M.C.Miller meters include a Calibration Certificate.

---
Recommended Field Verification Resistor Kit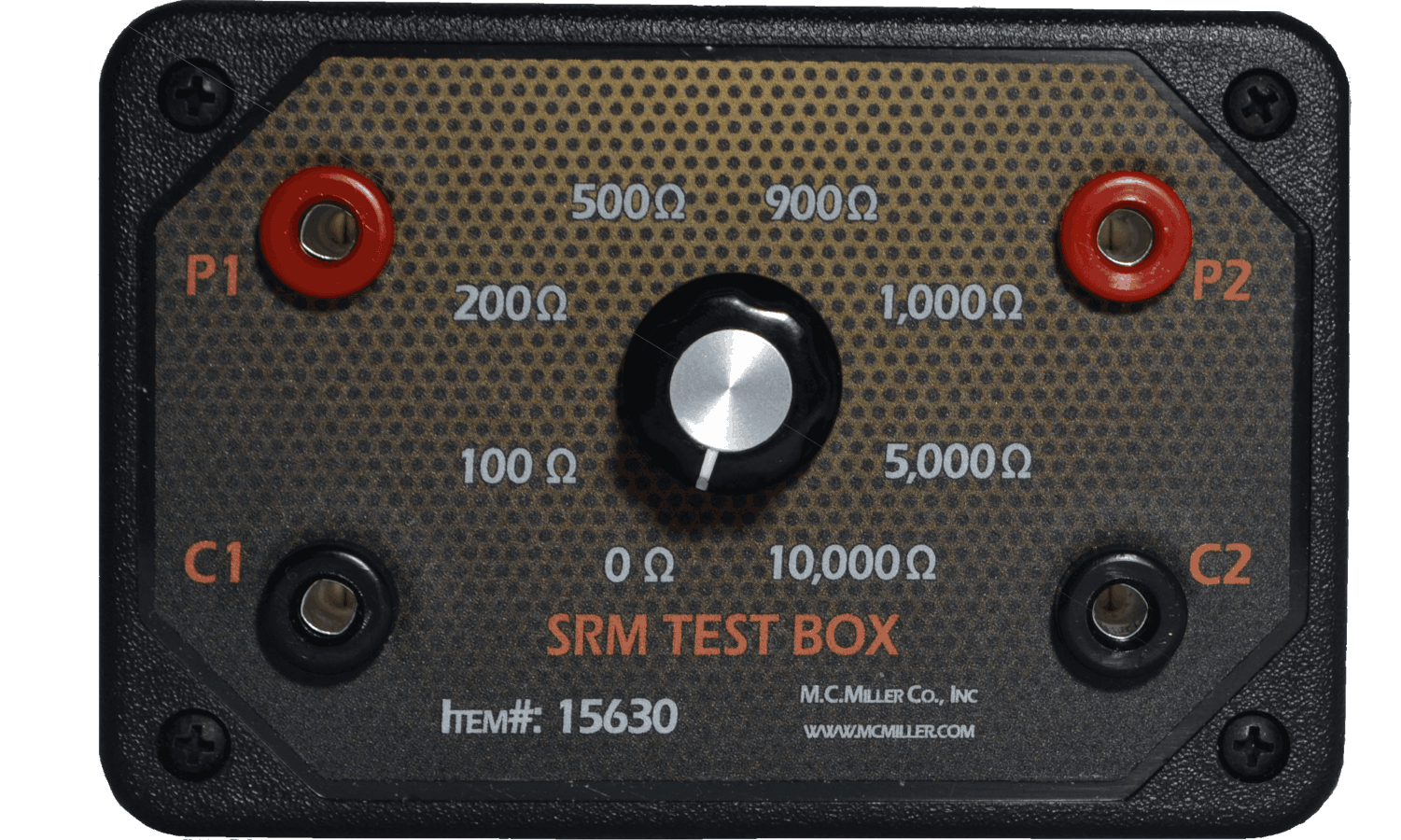 M.C.Miller's Resistor Kit
is designed for use with our soil resistivity meters to aid in field verification of the meter function. If the resistor field kit indicates the meter is functioning properly, any remaining problems are with external connections or interference.
---
NEW: A configuration application is now available for Android™ tablets. The application is included on the CD that ships with the 400D, or if you already own a 400D, you can download the application here.
---
Resistance Readings with the Push of a Button. Unique, Error-free Data-logging Option.
400D Features
No need to select ranges or adjust dials – the Miller 400D provides a direct read-out of resistance with the push of a button
WPAN interface allows optional data-logging via a WPAN - enabled PC (or PDA)**
Rugged, hard plastic case - safe to use on wet ground
Resistance measurement range from 0.01Ω to 10 MΩ (auto-ranging)
High resolution digital display
Resistance measurements are unaffected by any stray interference signals that may be present in the earth during readings, due to the use of narrow band-pass filters centered at 82.2 Hz (the unit's operating frequency)
Runs on a set of replaceable D-Cell Industrial Alkaline Batteries. No need to periodically recharge the unit or to plug it into a power source.
Performs 10,000 single readings on a fresh set of batteries.
Integrates with Universal Rectifiers' Soil Depth Selector/Multi-Pin Cable Harness System (please see Integration with Universal Rectifiers' Cable Harness)
400D Data-logging Capability:
The Miller 400D Resistance Meter is supplied with an "over-the pipe" soil resistivity survey program, known as ProCP Soil Resistivity, based on the 4-Pin Wenner Methodology.
400D Software Features & Benefits
Errors associated with writing down resistance meter readings and subsequently calculating soil resistivity values based on pin spacings are eliminated using the ProCP Soil Resistivity program in conjunction with the Miller 400D Resistance Meter
M.C.Miller's ProCP Soil Resistivity application can be run on "off-the-shelf" PocketPC hardware (Windows Mobile 5.0 or higher) or on a laptop PC. Hardware must be WPAN - enabled
Reading locations are represented by user-entered station numbers and readings are automatically position and data/time stamped in cases where a GPS receiver is integrated with the user's handheld unit
Data can be stored for up to 4 electrode (pin) spacings per reading location. Pin spacing values are user-entered in "feet" or in "meters"
Resistance data directly acquired from the Miller 400D are converted to soil resistivity values (expressed in ohm.cm units) for each selected pin spacing value. Measured resistance and calculated resistivity values are both stored per reading
Survey data is stored in XML files for easy reading by other applications, including ProActive, M. C. Miller's Pipeline Integrity Data Management application. ProActive users are able to easily integrate soil resistivity survey data with other "over-the-pipe" survey data for enhanced data analysis. A conversion to XLS file format (Excel Spreadsheet) option is also included
For more information see the documents tab
Manuals:
Information:
Brochures:
Storage temperature range (with batteries installed): -40°C to 50°C (-40°F to 122°F)
Operating temperature range: -20°C to 54°C (-4°F to 129°F)
Weight: 8.6 pounds (3.9 kg)
Width: 12.0 inches (30.5 cm)
Length: 10.5 inches (26.7 cm)
Height: 5.75 inches (14.6 cm)
Accuracy:
0.01Ω to 1MΩ range ±1.6% ±1LS Display Digit ±0.01Ω
1MΩ to 10MΩ range* ±5% ±1LS Display Digit
---
* For load resistances greater than 1MΩ, in addition to internal meter errors, errors associated with test lead proximity can also be significant (please see Influence of test lead proximity on the accuracy of AC resistance meter readings). When test leads are in close (physical) contact with each other, mutual capacitance and mutual inductance effects can impact the current and voltage, respectively (and hence the resultant resistance value). In such cases, the load (appearing across the input terminals of the meter) is not purely resistive, but, has reactive components as well. The solution to this issue is to make sure that the test leads are physically separated from each other in cases where the soil resistance is greater than 1MΩ.
Android™ Software:
MS Windows™ based software:
---