RE-375 (DW) Electrode
RE-375 (DW) Electrode with De-ionized Water
Features & Benefits
Potential measurements through small holes
Probe into bore holes or paving inserts
Packaged with de-ionized water
Precision-machined for reliable, leak-proof seals
Non-leak tubular carrying case
Supplied with a charge of copper sulfate crystals inside the Lexan tube
Cannot be extended. For extendable RE-375 electrodes, see EXT-375 15" (Item #15105) and EXT-375 30" (Item #15107).
The RE-375 Reference Electrode can be integrated with our Digital Potential Meter (Item #4110) and our Analog Potential Meter (Item #4107) using our Threaded Adapter (Item #14995).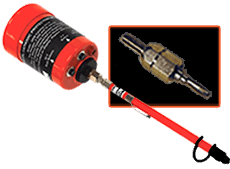 The Threaded Adapter product shown above allows the standard RE-5 electrode that's supplied with our potential meters to be substituted by a RE-375 electrode.
Safety Data Sheet (SDS):
Manuals:
Brochures:
Length: 6.75 inches (17.15 cm)
Contact area Diameter: 0.375 inches (0.95 cm)
Connector end: Standard 4mm Female Banana Plug
How to set up your new electrode for field use:
How to maintain your electrode after use:
---